Rich Man – Doyle Bramhall II
Listening to Rich Man, the first solo album by Doyle Bramhall II in 15 years, has not only greatly increased my appreciation for him as a solo artist, but it is also making me further appreciate the numerous times I have seen and heard him accompanying other artists both on stage (Eric Clapton, Roger Waters) and on record (Sheryl Crow, B.B. King & Eric Clapton).
"I'd been writing pretty consistently for other artists and projects since my last album [released in 2001] and had stored a lot of songs, sort of documenting my life story," Doyle explains (I will actively forego the journalistic rules of calling him by his last name as I have spent over a decade referring to him simply as Doyle), "When I played the album in sequence I realized that it ties everything together and brings the journey full circle."
As a listener, I couldn't help but notice that the album has an extremely meditative quality to it.  Reading more about the writing and recording process, Doyle explains how various tracks have spiritual significance influenced both by travels around the world and even by current events taking place in the United States.  Doyle manages to convey all of these ideas and journeys into a single album and does it with a refined and minimalistic approach making it the perfect soundtrack for a bottle of wine at dusk or even a cup of coffee at sunrise.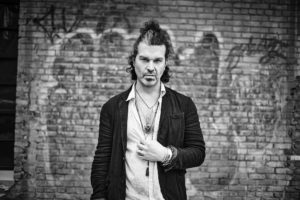 Doyle could not have chosen a better track to open the album than "Mama Can't Help You".  From the first few seconds, the song hits with an infectious groove played by none other than James Gadson (who played with Bill Withers) and in Doyle's own words, "no one has that groove!"  With a foundation like that, all that is left is to add texture on top of it.  Doyle begins that process by adding two additional electric guitars and panning each to a different side, essentially giving the track a feeling of surround sound.  To top it off, he adds little bursts of acoustic guitar, not as ongoing rhythm but just small teases to fill spaces, short and perfectly sweet.  Listen to this one with headphones if you can.
Another stand out track for me is "Keep You Dreamin'".  My first thought is that this track could bridge the gap between Electronic Dance Music (EDM) created on laptops, and the grooves created entirely with organic instruments.  In looking at the liner notes, I am noticing that there is a "high gangster pluck guitar" which, to be honest, I have never heard of before but can tell without a doubt is the secret ingredient for this tune.  Once again, kudos to a producer who can take a minimalist approach to instrumentation yet achieve extremely unique and perfectly syncopated sounds.
The track "Hands Up" is a Hendrix-esque tune that showcases Doyle's chops as a trio guitarist playing both rhythm and lead simultaneously.  With a line up similar to Hendrix's own Band of Gypsies, I can only imagine that this was Doyle's track to just say, 'hey, let's get a B3, drums, percussion and myself in a studio and see what happens… oh yeah, and let's make the bass a standup just to add some additional depth to the track.'  If that was the thought, then it certainly worked.  Take a listen to this one if you enjoy that stream of consciousness quality the Band of Gypsies had in letting the music do the guiding.
The title track, "Rich Man" definitely has the most intricate instrumentation of all the songs on this album.  It struck me at first as something I would have heard on a Return to Forever album, Romantic Warrior perhaps, but also had qualities of a John McLaughlin project like "Love, Devotion, Surrender" with Carlos Santana or perhaps even Shakti.  This is definitely a song I am going to discover more and more about the more I listen.
The spirituality continues straight into the next song "Harmony", and with the mark of a well-constructed album, provides a release to the more complicated arrangements of the previous song with some soothing string and organ arrangements accompanied by an acoustic guitar and relaxed vocals.  All I can say is listen to this one sitting down with your eyes closed.
Doyle explains the next two tracks, Saharan Crossing and The Samanas, best in his own words,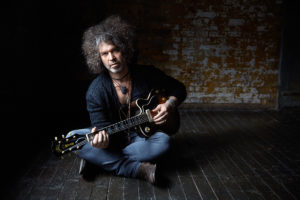 "I've been traveling to India and spending a lot of time in Morocco and have been influenced by a lot of different styles of music that comes from there – traditional Berber music, Andalusian, Moroccan flute music and Sufi trance music of Jajouka introduced to the West by the Rolling Stones.  I first became acquainted with Gnawa music and went there to spend tie with musicians and masters who heavily influenced me.  I then connected all the dots from the Delta and Teaxs blues that I grew up playing to the Sufi chants and African rhythms from Mali and Morocco and saw that all music everywhere was connected."
Doyle ends the album with a cover of "Hear My Train a Comin'" which as he puts it, "brings the journey full circle".
While I certainly hope it is not another 15 years before Doyle releases his next solo album.  This album and Doyle Bramhall II are living proof that perhaps 15 years of working with a variety of artists, traveling the world, and acting as an accompanying musician rather than the featured musician, are all the ingredients for a beautifully informed album.  I absolutely recommend this album to any lover of the blues, soul, and jazz.  Nicely done Doyle!