Seventeen years after I first saw Michael Powers play at Terra Blues, I had the opportunity to sit down with him for a one-on-one chat.  After  finally getting to know the musician I had loved for so long, I believe there are three words that truly encompass the essence of his being: Love, Devotion, Surrender*.
Love
In the thirty minutes I spent speaking with Michael, he told me some incredible stories including the time he spent playing in James Cotton's band as a teenager, the time he performed for a crowd of thousands in Istanbul, Turkey, and even the time he saw Jimi Hendrix's Band of Gypsies at the Fillmore East in 1969.
But the one topic that truly made his face light up with joy was when he looked at me and said, "I just became a grandfather."
"She reminds me of my mother, she's got the same facial expressions," he said fondly of his grand daughter, "my kid looks like her too so, you know, we know where we come from."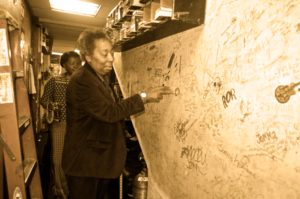 A few moments later, Michael got up and showed me where his daughter, as a teenager, had signed the backstage wall and even drew him a picture.  He continued to walk around slowly, as if in his own living room, showing me countless signatures of other artists he had played with, showing me where there were once kitchen appliances from the days that Terra Blues was a restaurant, and most importantly, showing me that his connection to this club goes far beyond the music.
Devotion
"When I first came here there was no stage, no nothing it was just real simple, food was the main thing," Michael recalls with a smile.
The owner at the time hired Michael and his bandmates to host a jam session in the afternoons which quickly became the most popular jam on Bleecker St.  Enjoying the music and the crowds, he then asked Michael and his band to play at nights once the dinner crowd had let out.
"So we played from two to seven, go home eat dinner, you know my kids were just born then so, so I'd go home, bring money for food for them and stuff and then I'd come back, play from 10 o'clock till whatever time he closed."
There are many artists that have this undying devotion to their art but what makes Michael Powers different is how he has devoted himself not only to his music, but to Terra Blues itself.
Michael Powers has maintained his residency at Terra Blues for twenty-seven years.
He witnessed it's beginnings as a Mediterranean restaurant, it's transition into a live music venue (at first with no stage), and it's current state as a sanctuary for blues music.  Likewise, Terra Blues has allowed Michael to mature his music without needing to concentrate on new surroundings.  He is able to tour, taking his music not only around the United States but to many other countries, and then come back to his familiar setting to regroup and reflect.
It is always an experience to see Michael Powers play, but it is truly a blessing to see Michael Powers play at Terra Blues.
Surrender
"The body is a unit, though it is comprised of many parts," says the Bible (1 Corinthians 12:12), " And although its parts are many, they all form one body."
This passage illustrates exactly how Michael approaches his performances.  He trusts the musicians he is playing with, he trusts the environment he is playing in, and he trusts all of his past experiences to come together and form a single, symbiotic experience for both the artists and the audience.
"I'm playing with a harmonica player tonight, so he'll inspire me to do whatever I do," he says just minutes before taking the stage and informing me that he has not written a setlist, "I have a blueprint. Things that I work around."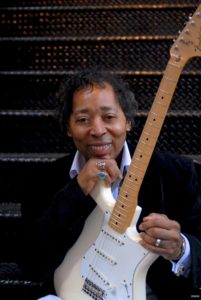 Michael took the stage and, as he always does, surrendered himself to the room, to his collaborator and to the audience.  What resulted were two sets that had every member of the audience mesmerized.  A seamless interplay between guitar and harmonica. A setlist that included his own compositions and numerous covers of artists ranging from Muddy Waters to the Grateful Dead.  To top it all off, Michael did all of this with his eyes closed, following the music wherever it took him.
In Michael's own words, "That's the way it happens you know. It just happens."
In a true display of his love, devotion and surrender, Michael leaned into the microphone and graciously said, "thank you to everybody here for making this possible and thank you Terra Blues."
*No reference is intended to the John McLaughlin and Carlos Santana album "Love, Devotion, Surrender"